Posted on
April 29th, 2008
by Webmaster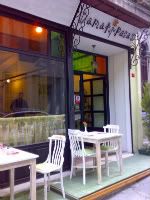 Finally after couple of days, the sun showed its lovely face from behind the clouds today. Organizing most of our works in the morning, we decided to take walk around Galata, where almost half of our apartments are located, and have lunch. Enjoying the lovely weather, people and the sight (beleive us, you barely find time to enjoy this city between everyday work, therefore it was more than valuable to us to have the chance), we ran into our everyday route down to Galata Tower. Luckily, it didn't take us long to spot this lovely, cosy restaurant which we already spotted weeks ago but didn't find a chance to give it a try.
"Damat Paçası" is one of those little, cosy restaurants with a staff who welcomes you with a hearty smile, offering a variety of delicious food made by local women and a "not so expensive" price-list. It actually takes its name from the main course that is, grilled chicken in dough, served with garlic and yougurt. It's very similar to "mantı", another star of the Turkish cuisine, except this one has bigger pieces and chicken meat in it. Damat Paçası is the specialty of this restaurant but you may also find other delicious choices in the menu such as Sultanahmet meatballs, grilled chicken, chicken schinitzel and more.
Honestly, in our understanding, it's not only "good food" that makes a restaurant a good one. We always expect see more than a "just serving" staff. A hearty welcome and smiling faces is the number one plus that a restaurant should have and still even more honestly, this is something you are going to find here.
Long story short, we had a very tasty meal and a cup of tea after it to enjoy it even more. It wasn't long before I decided to share this experience in our blog and asked for permission to take these photos. Lovely people, lovely atmosphere, delicious food! Cheers!
Here is some basic info:
Damat Paçası Restaurant
Şahkulu Mahallesi, Tımarcı Sokak No: 1/A Beyoglu - Istanbul
Phone: (+90212) 292 44 98